Church behind Temple ENTRANCE
Jun 17 2014 : The Times of India (Chennai)
Church restrained from making
changes at site of ancient temple
Madurai:T
TIMES NEWS NETWORK
The Madurai bench of the Madras high court on Monday restrained the
management
of St Peter and Paul Church at Serndhamaram in Tirunelveli
district from making
any further construction or alteration at the site of
a 1,000-year-old Shiva temple
located close to it. The bench of
Justice V Ramasubramanian and
Justice V M Velumani was hearing
a petition filed by S Arumugam,
a resident of Serndhamaram village.
Seeking inspection by an expert
committee, Arumugam's counsel
T Lajapathy Roy contended that
the church management is now
attempting to destroy the temple
structure. He said the temple
had a 'Lingam' in the sanctum
sanctorum and idols of deities
sculpted on its pillars and
hence it is necessary to have an
expert committee set up under
the guidance of an archaeologist
to study the structure.
The petitioner sought directions to the state's archaeology
department to notify the temple as an ancient monument
and to the collector take over the temple property.
According to the petitioner,
the church management en
croached
on the temple land during the British rule and constructed the
church after demolishing the temple's entrance. It allowed the
villagers to celebrate temple festival till 2012, but after that even that
was denied, the petition said.
In 2005, the church initiated action to get some more land, but the
special commissioner and commissioner of land administration in
Chennai refused, it said.
When the church management constructed
a shopping complex in 2013 on the temple land
, the tahsildar passed
an order on April 22, 2013 to remove it, the petitioner said.
When the matter was brought to the notice of the district superintendent
of police, an archaeological officer was appointed to study the issue.
He visited the temple site on October 7, 2013 and filed a report
saying there was no co-operation from the church management
and he was restrained from entering the temple, the petitioner said.
Further, the inspector of the Hindu Religious and Charitable Endowment
department said in a report dated March 17, 2014 that the church had
encroached on the temple land, he said. After hearing the matter, the bench
granted an interim injunction and adjourned the matter by three weeks to
enable the government and the church to file their replies.
The church's counsel K Mahendran said cases have been filed against the orders
of the commissioner of land administration and the tahsildar.
Both the cases are pending, he said.
Detailed Report is presented by reasarch scholar Vedam Vedaprakash here
CHURCH Must be permanently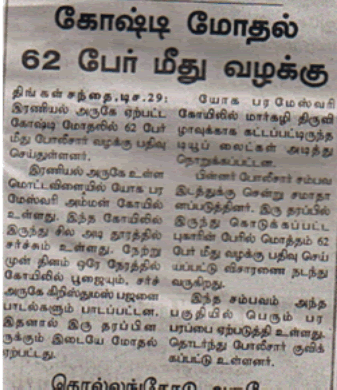 Church land grabbing continues.